Wednesday, April 16, 2014
New Butterfly House in El Valle, see:

www.butterflyhavenpanama.com
American Society meeting in Panama:
PLEASE OBTAIN YOUR TICKETS AS SOON AS POSSIBLE. THIS EVENT IS JUST AFTER EASTER WEEKEND AND WE NEED TO HAVE A HEAD COUNT ON MONDAY THE 21ST OF APIL.
When: 7 P.M Thursday 24 April 2014
Where: Fontanella Restaurant / The new Ramada Plaza
Ave. Israel & Calle's 71E+72E San Francisco
next to Hogar & Salud.
Introduction of Candidates and voting
---
The Fontanella Restaurant has reopened as part of the new Ramada Plaza Hotel. This has been one of our favorite locations where we have held several previous election night events.
Cast your vote for your new Board of Directors.
(2014 Dues must be paid prior to casting your vote).
Enjoy our Musical Program –
Balboa High School Students
Here is the special menu we have prepared for you.
Please advise in advance if you prefer a vegetarian meal.
MENÚ SERVIDO/ SIT DOWN DINNER
Members: $35 Non-Members $40
Copa de Vino o Sangría de la Casa
Cup of Wine or Sangria of the House
Pan y Mantequilla de la Casa
Basket of House Bread & Butter
Crema de Zapallo con Especias
(Coronada con Mozzarella)
Cream of Pumpkin Soup with Spices
(Crowned with Mozzarella)
(Lechuga Romana con Parmesano y Crotones)
(Romaine Lettuce with Parmesan and Croutons)
PLATO PRINCIPAL / PRINCIPAL DISH
Rib Eye Horneado en su Jugo
(Con Ajo Confitado y Romero)
Sobre Pudín de Maíz Verde y Queso Nacional
(Coronado con una Delicada Ensaladilla de Alfalfa Con Vinagreta de Piña)
(With baked Garlic and Romero)
Served with Green Corn Pudding and Panamanian Cheese
(Crowned with delicate Alfalfa Salad and Pinapple Vinaigrette)
(Glaseado con Jalea de Cebolla Blanca y Menta Fresca)
(Glazed with White Onion and Fresh Mint Jelly)
Pudín de Pan al Coco y Ron
Bread Pudding with Coconut and Rum
To obtain tickets please contact one of the following Board Members
Tuesday, April 15, 2014
Love going to the Ancon "Little Theater" when I'm in Panama:
[Theatre Guild of Ancon] The Theatre Guild of Ancon presents - ALL IN THE TIMING
The Theatre Guild of Ancon presents - ALL IN THE TIMING
All in the Timing is a collection of one-act plays by the American playwright David Ives. The short plays are almost all comedies (or comedy-dramas), focusing mainly on language and wordplay, existentialist perspectives on life and meaning, and the complications involved in romantic relationships.
This critically acclaimed, award-winning evening of comedies combines wit, intellect, satire and just plain fun. A hilarious sextet whether played together or separately.
"Like sketches for some hilarious, celestially conceived revue. The writing is not only very funny, it has density of thought and precision of poetry…ALL IN THE TIMING is by a master of fun. David Ives spins hilarity out of words." —NY Times.
"An original turn of mind is to be saluted in our tired theatre…A playwright with ideas, his own ideas, in his head is relatively rare. Such a one is David Ives." —NY Magazine.
The cast includes: Melanie Lee HB Twohy Nick Miles Maria Theoktisto Alfonso Grimaldo Kari King Joe Varela Rebecca Virgo Lisa Palm Malakai Riker Amit Nathani Rita Banus Aquilino Arias Carina Weber Davis Walden
Show Dates: April 24, 25, 26 - May 1, 2, and 3 - May 8, 9, and 10
For Reservations contact: http://anconguild.com/reservations/
Saturday, April 5, 2014
From DutchNews.nl:
Two young Dutch women disappear in Panama
Police in Panama are hunting two young Dutch women who disappeared after making plans to go on a country walk near the mountain town of Boquete.
Lisanne Froon (22) and Kris Kremers (21) were in Panama to learn Spanish and were staying with a local family. According to the Telegraaf, they failed to meet their guide for the walk, who then went to check up with their host family. The girls were then reported missing.
The Dutch foreign affairs ministry says a major hunt has been launched for the young women.
- See more at:
http://www.dutchnews.nl/news/archives/2014/04/two_young_dutch_women_disappea.php#sthash.BQGlGZzJ.dpuf
From earthjustice.org:
04 APRIL 2014, 3:45 PM
Indigenous people had no voice in losing their land to dam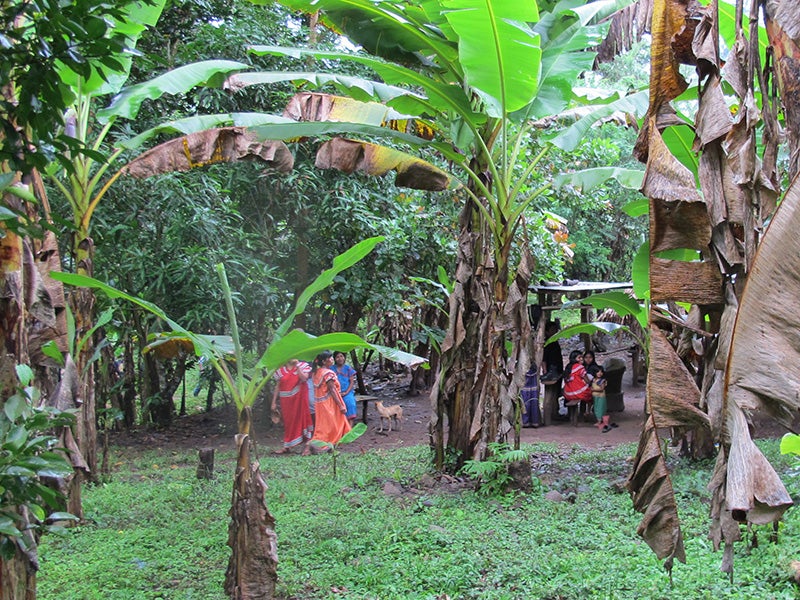 "It's been two months," Ngöbe indigenous leader Weni Bagama told me this week, describing the Ngöbe indigenous community members who are camping alongside the banks of the Tabasará River. They are there in protest of the Barro Blanco dam, which will flood indigenous Ngöbe families—including Ms. Bagama's—from their land. Aside from homes, a school, and cultural sites, this land of lush, leafy vegetation provides their primary source of food.
These families are concerned about their future if the dam is built. Yet they never had a chance to raise these concerns to their government, even though international law prohibits forced relocation of indigenous peoples without their consent. The Panamanian government approved the Barro Blanco project without consulting these Ngöbe communities.
Last August, Earthjustice co-authored
an amicus brief
to the Supreme Court of Panama, explaining that the Ngöbe depend on their environment for physical, cultural and economic survival, and detailing the violations of their land rights under international law. With no decision yet on that case, the Ngöbe fear the decision will come too late.
In the meantime, the Panamanian government has notified indigenous people that the government authorized entry onto their land, prompting Earthjustice to submit, along with local and international organizations, an
urgent appeal
to U.N. Special Rapporteurs this February focused on the forced evictions. Our appeal asked U.N. officials to call upon the governments with influence over the project, including through public financing, to halt their support for the project until each has assured its actions do not violate the Ngöbe's human rights.
Nonetheless, Bagama explained to me from the encampment, dam construction continues "day and night," with police stationed just meters away.
Sadly, Panama has a history of contentious dam projects. Last week,
Ms. Bagama traveled to
Washington, D.C. to testify before the Inter-American Commission on Human Rights on the state of Panama's response to conflicts related to development projects, highlighting the Barro Blanco case as an example of the government's failure to ensure protection of indigenous peoples' rights. This week, the Inter-American Court of Human Rights held a hearing on a case against Panama regarding its failure to protect indigenous peoples' rights from flooding of their land for a dam project.
Panama could learn from its past failures to protect its people from poorly planned projects rather than allowing development to flood the Ngöbe from their land.